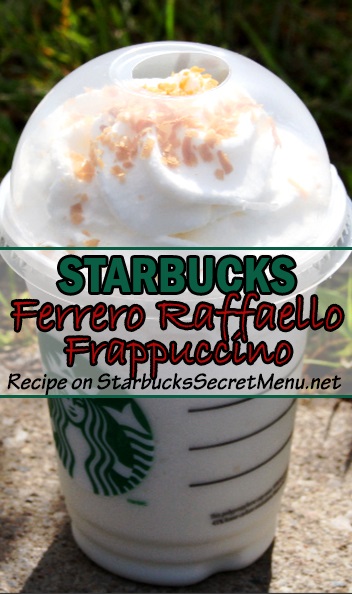 This chocolaty coconut delight mimics the flavor of the deliciously milky and creamy Ferrero Raffaello, popularly referred to as the coconut Ferrero Rocher. If you've never tried it you need to get on that ASAP because you're missing out!
The actual Raffaello balls are made up of an almond surrounded by fine milk cream, covered in a crisp wafer and then sprinkled with tender shredded coconut. Basically they're little balls of coconut heaven!
Here's the recipe:
White Mocha Frappuccino
Add coconut syrup (1 pump tall, 2 pumps grande and venti)
Coconut flakes blended in
Top with whip and coconut flakes

Optional

for extra pizzazz: mocha drizzle and caramel drizzle

Thanks to Starbucks partner, Jenifer G. of Flowery Brand, GA for sending this tasty recipe in! If you have a secret recipe you'd like to share, send it to recipes [at] StarbucksSecretMenu.net and it could be featured on the site!