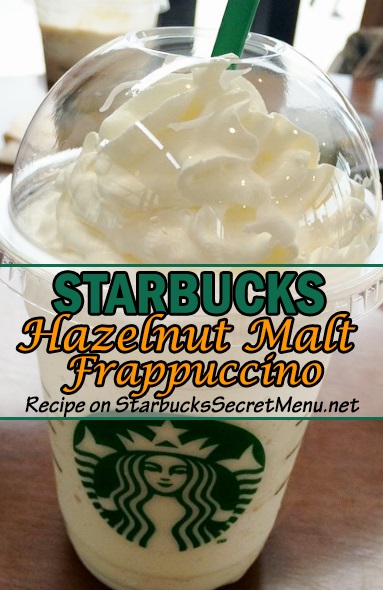 Hazelnut Malt Frappuccino

| Starbucks Secret Menu

Instead of ordering a regular ol' drink off the Starbucks menu, spice up your day with the Hazelnut Malt Frappuccino!

A blend of deliciously nutty flavor, classic vanilla and a touch of spice makes this Frappuccino anything but boring. Simple to order, yet full of flavor! Our favorite combination.
Here's the recipe:
Vanilla Bean Frappuccino
Extra scoop of vanilla bean powder
Add hazelnut syrup (2 pump tall, 3 pumps grande, 4 pumps venti)
Add 2 shakes of Nutmeg powder (3 grande, 4 venti)

Thanks to Regan M. for sending in this Frappuccino recipe! If you have a secret Starbucks drink you'd like to share, send it to recipes [at] StarbucksSecretMenu.net and it could be featured on the site!