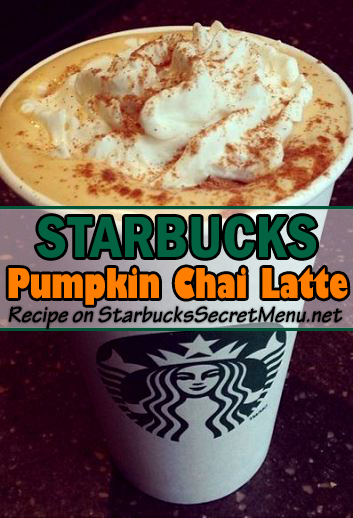 Pumpkin Chai Latte

| Starbucks Secret Menu

While Starbucks regular Pumpkin Spice Latte's are a delicious treat already, changing up your usual every now and then really adds some spice to your life! Literally in this case with the Pumpkin Chai!

It's a simple substitution but makes a world of difference in spicing up this already tasty treat. Get ready for a chai pumpkin mash-up that tickles your taste buds and warms you up from the inside out!
Here's the recipe:
Chai Tea Latte (1.5 pumps Chai for tall, 2 grande, 2.5 venti)
Add pumpkin spice sauce (1.5 pumps tall, 2 grande, 2.5 venti)
Top with whip and pumpkin spice topping
Optional: Feel like drinking it dirty? Add an espresso shot for an extra kick
Thanks to Starbucks Parter Daniel A. in Burlingame, California for suggesting this yummy addition! If you have a secret recipe, share it with us at Recipes [at] StarbucksSecretMenu.net or StarbucksSecretMenu [at] gmail.com and it could be featured on the site! Please attach a photo if you have one