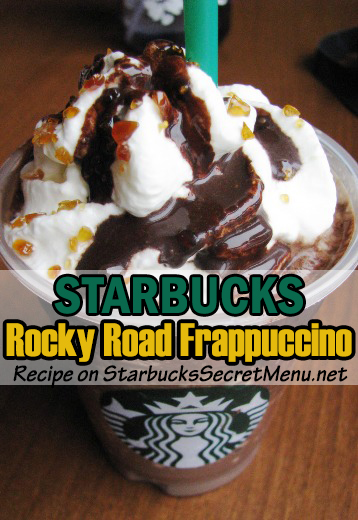 Rocky Road Frappuccino

| Starbucks Secret Menu

Not much can be said about Rocky Road ice cream or Rocky Road bars without melting into a puddle of saliva.

The chocolate, the nuts, the marshmallows! All of these ingredients were made to go together!

So addicting, so delicious. We can't get enough of the Rock Road Frappuccino!

Note that adding a food item like nuts into the Frappuccino blender is not allowed in all Starbucks locations as different stores have different policies. Be sure to ask first!
Here's the recipe:
Heavy whip to the bottom line
Add marshmallow syrup (½ pump tall, 1 grande, 1.5 venti)
Add mocha syrup (1 pumps tall, 2 grande, 3 venti)
Add toffee nut syrup (½ pump tall, 1 grande and venti)
Optional: 1 packet of almonds (can use the ones meant for oatmeal)
Crème base, ice and double blend
Top with whipped cream, mocha drizzle, and caramel ribbon crunch bits if desired
Thanks to Starbucks partner Andrew for sending this recipe in! If you have a secret recipe you'd like to share, send it to recipes [at] StarbucksSecretMenu.net and it could be featured on the site!