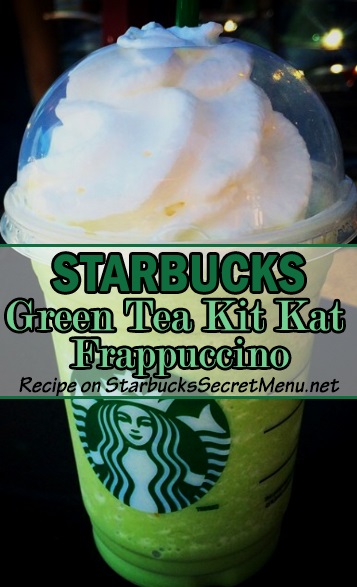 Green Tea Kit Kat Frappuccino

| Starbucks Secret Menu

If you've ever tried those little Green Tea Kit Kats you know how delicious and addicting they are! As huge matcha green tea fans ourselves, dare we say we like them more than regular Kit Kats?

And while you'll have to look in speciality grocery stores or even abroad in Asia for these beloved matcha Kit Kat treats you can step into any Starbucks and order this taste-a-like Frappuccino!

Kit Kat lover in general? Check out our regular Kit Kat Frappuccino as well!

The Green Tea Kit Kat Frappuccino is one of our simpler recipes as well. Yay for easy ordering!
Here's the recipe:
Matcha Green Tea Frappuccino
No classic syrup
Add white mocha syrup (1 pump tall, 1.5 grande, 2 venti)
Optional: Sub soy milk for extra sweetness
Optional: Add java chips for extra chocolatey flavor
Thanks to everyone who sent us recipes for the Green Tea Kit Kat Frappuccino! If you have a secret recipe you'd like to share, send it to recipes [at] StarbucksSecretMenu.net and it could be featured on the site! Attach a photo if you have one.