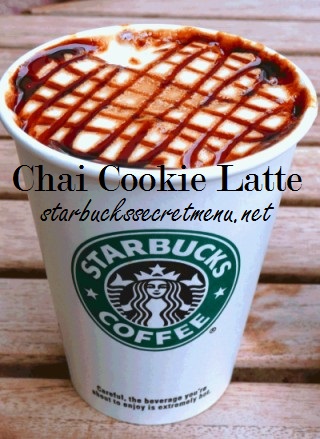 Starbucks Secret Menu:
Chai Cookie Latte
Cold weather is really starting to creep in this time of year, so warming up with a tasty latte is always a nice treat!
This Chai Cookie Latte incorporates aromatic Chai, java chip crunch and sweet hazelnut for a cookie tasting delight.
Here's the recipe:
Start with a Chai Tea Latte
Add extra Chai Syrup (1 pump tall, 1.5 pumps grande, 2 pumps venti)
Add Hazelnut Syrup (1 pump tall,1.5 pumps grande, 2 pumps venti)
Add Java Chips
Top with Hazelnut Syrup and Cinnamon Dolce sprinkles

Thanks to P. Patel for sending this recipe in! If you have a secret recipe you'd like to share, send it in to starbuckssecretmenu [at] gmail.com and we'll add it to the list!