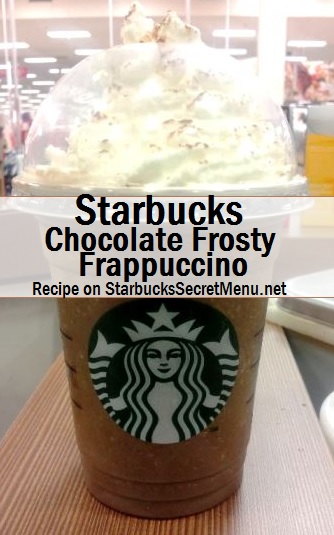 Starbucks Secret Menu:
Chocolate Frosty Frappuccino
If you love Wendy's Chocolate Frostys as much as Barista Nakyia H., you'll love the Chocolate Frosty Frappuccino!
It's a twist on the beloved frozen treat that's good enough to eat with a spoon!
Here's the recipe (for a grande):
3 pumps of mocha syrup
3 pumps of vanilla syrup
One scoop of vanilla bean powder
Heavy whipping cream (for the thickness)
Creme base
Top with whipped cream
Thanks to Michigan Barista Nakyia H for sharing this recipe with us! If you have a recipe you'd like to see on the site, send it into starbuckssecretmenu@gmail.com and we'll add it to the list!