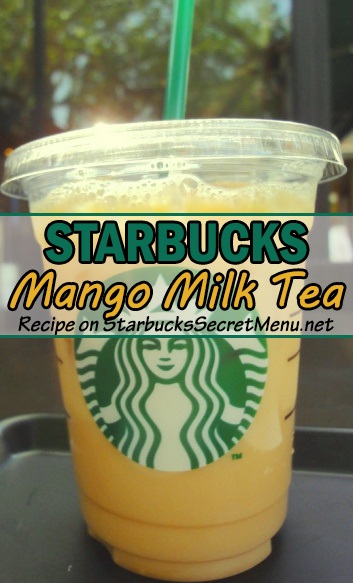 Mango Milk Tea

| Starbucks Secret Menu

With the new iced mango black tea that is now in Starbucks stores, we have new drink combinations! Or new delicious variations of some of our previous recipes, like this mango milk tea!

If you're not familiar, fruit flavored milk teas are a popular bubble tea variety. Originating in Taiwan, the beverage has since grown in popularity all over the world.

We're definitely huge milk tea fans and if you are too, you'll love this mango flavored version! We also have a Raspberry Milk Tea on our Starbucks Secret Menu as well. Grab a friend, try both and swap!
Here's the recipe:
Iced black tea
Made with half and half instead of water
Mango syrup (1 pump tall, 2 grande, 2.5 venti)

Thanks to Mallory W. & Breanna B. Of Wyoming, MI for sending this recipe in. If you have a secret Starbucks recipe you'd like to share, send it to recipes [at] StarbucksSecretMenu.net and it could be featured on the site! Attach a photo if you have one 🙂