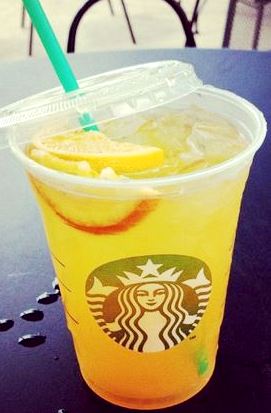 Starbucks Secret Menu:
Peach Ring Tea
Who doesn't remember counting the change in their piggy bank and trotting over to the nearest convenience store to pick up some 5 cent candies. I sure do, and one of my favorites were the peach ring gummies!
This tea tastes exactly like those childhood favorites, and on the plus side it's quite simple to order.

Here's the recipe:
Half Passion Tea and Half Valencia Orange Refresher
Ask for no water
Add peach syrup: 2 pumps for a tall, 3 for a grande, 5 for a venti, or 6 for a trenta

Thanks to Starbucks Barista Robyn for sending this recipe in! If you have a secret recipe you'd like to share, send it in to starbuckssecretmenu [at] gmail.com and we'll add it to the site!