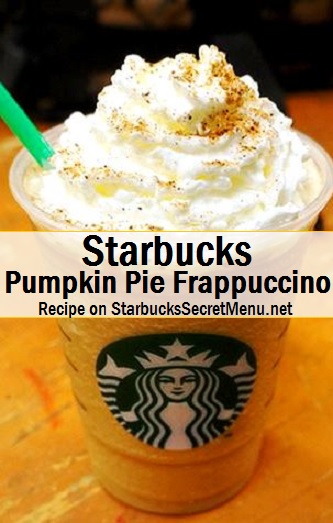 Starbucks Secret Menu: Pumpkin Pie Frappuccino
With the return of fall favorites, the Pumpkin Spice Latte and Pumpkin Spice Frappuccino, comes some great secret recipes we've been wanting to share!
Starting with a tasty Pumpkin Pie Frappuccino that's perfect for this time of year with summer coming to an end and fall about to begin!
Here's the recipe:
Creme based Pumpkin Spice Frappuccino
Add Cinnamon Dolce Syrup (1 pump for a tall, 2 for grande, 3 for venti)
Add Cinnamon Dolce Sprinkles
Whipped cream blended in
Top with more whipped cream and Cinnamon Dolce Sprinkles!
Thanks to Barista May for sending this drink recipe in! If you have a recipe you'd like to share, send it to starbuckssecretmenu@gmail.com and we'll add it to the list!