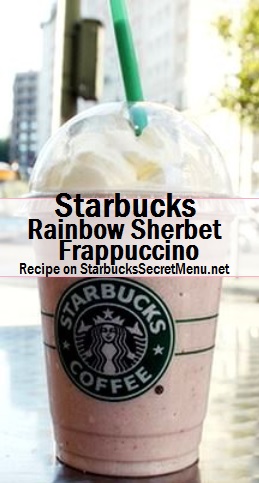 Starbucks Secret Menu:
Rainbow Sherbet Frappuccino
This tasty beverage was designed by Drew M of the Coldorado and Los Robles Starbucks in Pasadena, and like most great things was discovered by accident.
It's fruity, refreshing and tastes a lot like Rainbow Sherbet!
Here's the recipe (for a grande):
Strawberries and Creme Frappuccino made with orange refresher instead of strawberry purée
Add one pump of Peach Syrup
Add one pump of Raspberry Syrup
One scoop of Vanilla Bean Powder
Three pumps of Crème Base
Add ice and blend

Big thanks to Drew for sharing this recipe! If you have a secret recipe you'd like to share, send it into starbuckssecretmenu [at] gmail.com and we'll add it to the site!