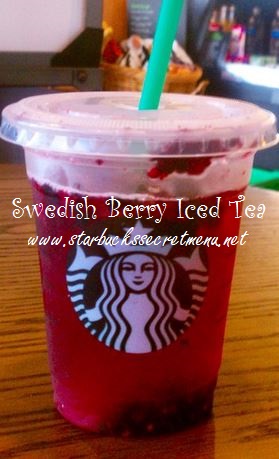 Starbucks Secret Menu:
Swedish Berry Iced Tea
Here's a deliciously refreshing fruity beverage that tastes just like Swedish Berries!
And yes, it tastes as good as it looks!
Here's the recipe:
Iced Passion Tea
Sub the water for Berry Hibiscus Juice
Add Classic Syrup (2 pumps tall, 3 pumps grande, 4 pumps venti)
Add Raspberry Syrup (1 pump tall, 1.5 pumps grande, 2 pumps venti)
Add scoop of berries (1/2 scoop for a tall)
Add 1 Lime Wheel
Shake Shake Shake!

Thanks to Starbucks Barista, Kaitlyn I. for sending this spectacular recipe in! If you have a recipe you'd like to share, send it to starbuckssecretmenu [at] gmail.com and we'll add it to the site!