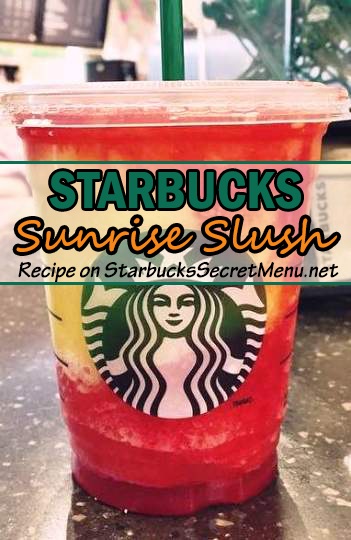 Sunrise Slush

| Starbucks Secret Menu

Cool down this summer with our Sunrise Slush!

The two-toned color of this sunrise like beverage not only gives it it's name, it also packs in two delicious fruity flavors.

It's the perfect option to cool you down on a hot summers day. And of course we have to mention how photo worthy the Sunrise Slush is! Just look at those colors! Don't be surprised if you get stopped on the street and asked what you're drinking!
Here's the recipe:
Fill refresher cup to the tea line with half passion tea and half berry hibiscus refresher
Blend
Fill smoothie cup to the first line with orange mango and add peach syrup (2 pumps tall, 2 grande, 4 venti)
Blend
Fill cup with refresher blend first, then smoothie blend and top with raspberry syrup (1 pump tall, 2 grande and venti)

Thanks to Starbucks partner Béla G of Winnipeg Manitoba for the great recipe and photo! If you try it use #StarbucksSunriseSlush, we'd love to see more photos of this one! And if you have a secret recipe you'd like to share, send it to recipes [at] StarbucksSecretMenu.net and it could be featured on the site!