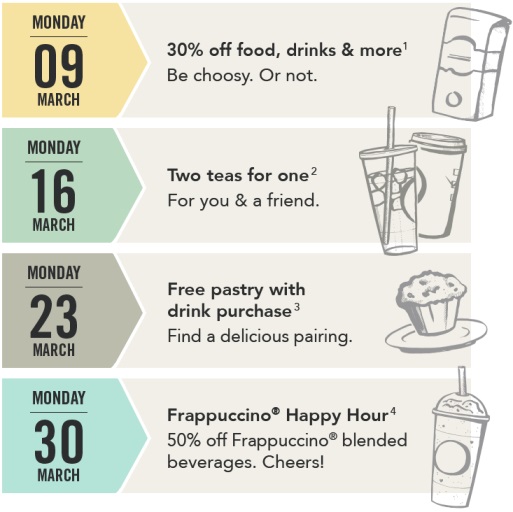 Starbucks introduces Happy Mondays!
Mondays have become much less dreadful with Starbucks new Happy Monday specials! Get a great offer every Monday with your Starbucks rewards card!
Since the cost of some Starbucks Secret Menu items can add up with all the extra ingredients, Mondays are the perfect time to take advantage of these savings and try some Starbucks Secret Menu items!
These offers are valid on the selected Mondays between 2-5pm:
Monday March 9: 30% off food drinks and more!
Monday March 16: Two teas for one
Checkout all our Starbucks Secret Menu teas here!
Monday March 23: Free pastry with drink purchase
Monday March 30: Frappuccino Happy Hour! 50% Off Frappuccino blended beverages
Checkout all of our Starbucks Secret Menu Frappuccinos here!