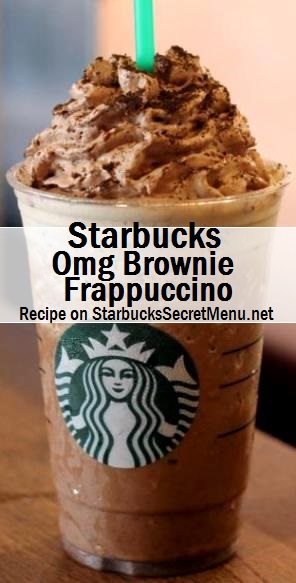 OMG Brownie! Frappuccino

| Starbucks Secret Menu

For this cup of chocolate deliciousness, we're combining two of our favorite things: the Double Chocolate Chunk brownie and a Frappuccino!

It's rich, chocolaty and makes the perfect treat. Plus, no sticky fingers with this dessert!

Keep in mind that not all locations are able to blend a food item into a beverage. Check with your local store's policy before ordering. If you're not able to order this Frappuccino, try one of our other chocolate delights like the Oreo Frappuccino or Willy Wonka Frappuccino.
Here's the recipe (for a grande):
Coffee based Frappuccino
Blend in a Double Chocolate Chunk Brownie
Add 1.5 pumps of white mocha syrup
Add 1.5 pumps of toffee nut syrup
Top with whip (regular or chocolate) and cookie crumble
Thanks to Starbucks Store Manager Calli and Sara of Manhattan, KS for coming up with the OMG Brownie Frappuccino and sharing the recipe with us! If you have a recipe you'd like to share, send it to starbuckssecretmenu [at] gmail.com and it could be featured on the site!