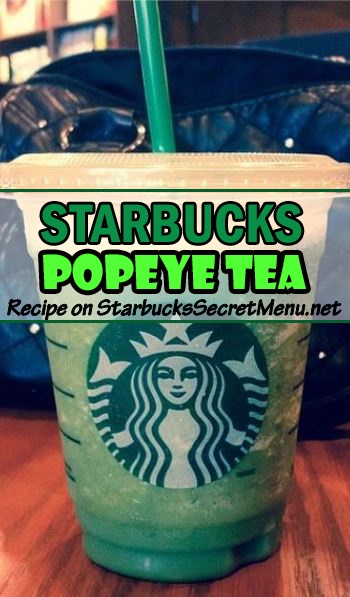 Popeye Tea

| Starbucks Secret Menu

If you're looking for a pick me up that's more about hydration and low in sugar, try our new Popeye Tea! It'll give you that boost of energy just like Popeye's spinach.

While this beverage certainly has spinach coloring, there are no veggies involved in the making of this drink, so fear not if you're not a spinach fan.

No need to worry about calories with this one either! A Venti is only 50 calories!
Here's the recipe:
Unsweetened iced green tea
Add matcha powder (1 scoop tall, 1.5 grande, 2 venti)
Blend
Blending the beverage gives it a nice foamy consistency and helps to cut the bitterness in the matcha.

Thanks to R Jewell for sending in this recipe! If you have a secret Starbucks beverage you'd like to share, send it to starbuckssecretmenu [at] gmail.com and it could be featured on the site!