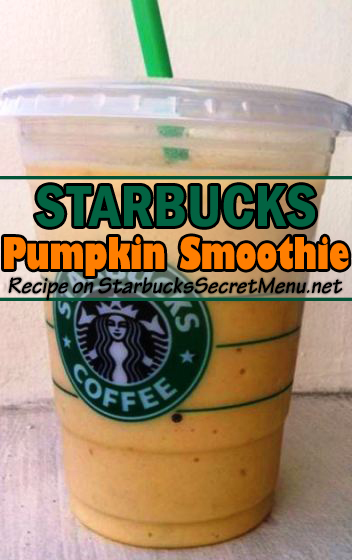 Pumpkin Smoothie

| Starbucks Secret Menu

We love pumpkin flavored anything and if you do too, the Pumpkin Smoothie is a welcome addition to our growing list of Pumpkin Lattes, Pumpkin Hot Chocolate and Pumpkin Frappuccinos.

It's the perfect pumpkin flavored pick-me-up.  A smoothie is a great option if you're looking for a quick snack and we love that it offers the nutrition of a full banana.

Pumpkin Spice is only available for a limited time each year after all so why not take advantage and put it in everything! More pumpkin and lots of it please!
Here's the recipe:
Whole milk to the middle line
6 pumps of Pumpkin Spice sauce
Add 1 scoop of protein powder
Ice, whole banana and blend!
Thanks to Laura C. for sending this recipe in! If you have a secret recipe, share it with us at Recipes [at] StarbucksSecretMenu.net or StarbucksSecretMenu [at] gmail.com and it could be featured on the site! Please attach a photo if you have one