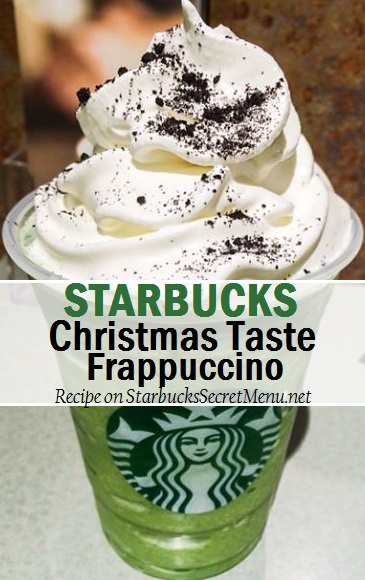 Starbucks Secret Menu:
Christmas Taste Frappuccino
Looking for a Frappuccino that looks and tastes like a little bit of Christmas? This is it!
Don't worry about the season though, you can pick up this delight all year round.
Here's the recipe:
Start with a Vanilla Bean Frappuccino or Green Tea Frappuccino
Add peppermint syrup (1.5 pumps tall, 2 pumps grande, 2.5 pumps venti)
Add raspberry syrup (1/2 pump tall, 1 pump grande, 1.5 pumps venti)

Optional:

Blend in a bit of caramel drizzle
Top with whipped cream and cookie crumble

Thanks to Cyndi M. for sending in this delicious recipe! If you have a recipe you'd like to see featured on the site, send it to starbuckssecretmenu [at] gmail.com! Attach a photo if you have one.