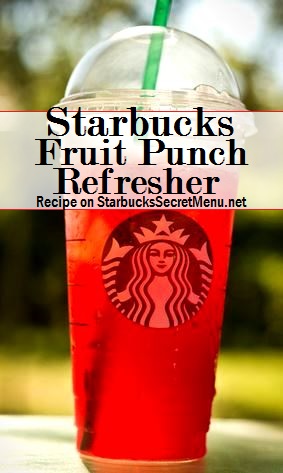 Starbucks Secret Menu:
Fruit Punch Refresher
A great big glass of Fruit Punch is such a refreshing summer beverage, making this drink perfectly named!
It tastes and looks just like Fruit Punch, but has the pick me up of a Refresher for those sluggish days when you just need something extra.
Here's the recipe:
Start with a Valencia Orange Refresher (including orange slices), with a tad more water than orange
Add Raspberry Syrup (1 pump for a tall, 2 pumps for a grande, 3 pumps for a venti)
Add Peach Syrup (1 pump for a tall, 1.5 for a grande, 2 for a venti)
Shake and enjoy

Many thanks to Starbucks Barista Kayla for sending this wonderful recipe in!