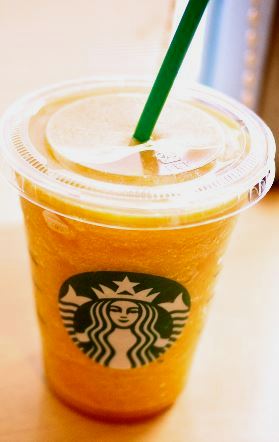 Starbucks Secret Menu:
Orange Creamsicle Frappuccino
Orange Creamsicles are a longtime favorite and such a classic frozen treat. It's light, refreshing and a great balance between the sweetness of the orange Popsicle outside and the creamy vanilla ice cream inside.
This Frappuccino created by Barista Tavia H incorporates both of those flavors to produce a well balanced icy delight!
The recipe is similar to the on-menu Strawberries & Creme Frappuccino, but with orange mango juice instead of strawberry juice used before adding milk.
Here's the full recipe: (for a tall, adjust for other sizes)
Milk (of your choice) to the 1st line
Orange Mango or Valencia Orange Refresher Juice to the 2nd line
Add classic syrup (2 pumps tall, 3 pumps grande, 4 pumps venti)
Add creme base (2 pumps tall, 3 pumps grande, 4 pumps venti)
Top with whipped cream (optional)

Thanks to Tavia for sending in this great Frappuccino recipe! If you have a recipe you'd like to share, send it to starbuckssecretmenu [at] gmail.com.