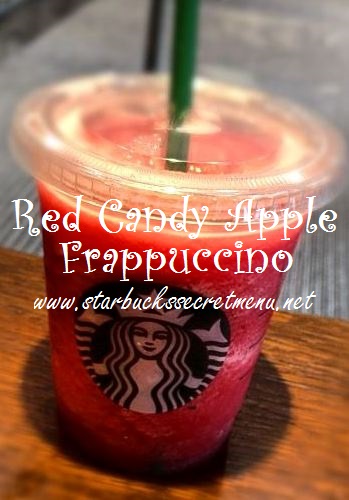 Starbucks Secret Menu:
Red Candy Apple Frappuccino
If you love fair food, chances are you've probably had a Red Candy Apple in your lifetime.
The sweet candy outer goes perfectly with the refreshing apple in the center. This Frappuccino version does just that as well, refreshing apple juice coupled with deliciously sweet syrups.
Here's the recipe:
Start with apple juice to the bottom line of the cup
Add Raspberry Syrup (1.5 tall, 2 grande, 2.5 venti)
Add Classic Syrup (2 tall, 3 grande, 4 venti)
Add scoop of ice and blend
Top with a little whip and a pump of caramel drizzle
Thanks to Barista Kayla H. of the Target Starbucks in Smiths Falls, Ontario for sending this recipe in! Originally created for the Red Hawks. If you have a recipe you'd like to share, send it in to starbuckssecretmenu [at] gmail.com and we'll add it to the list!