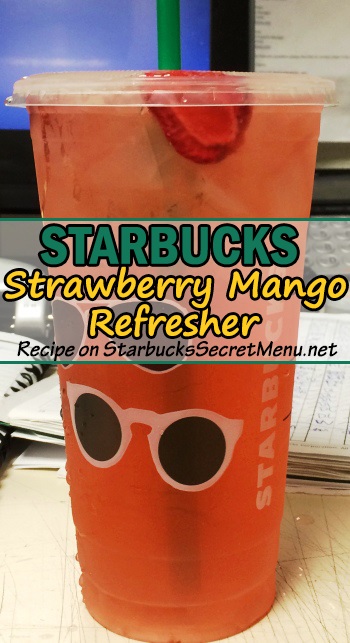 Strawberry Mango Refresher

| Starbucks Secret Menu

While Frappuccinos are great for cooling down in hot summer weather, sometimes you want just a fun and fruity beverage to lighten your mood and wake up your taste buds.

This Strawberry Mango Refresher makes use of the newest Refresher and one of our favorite new Starbucks ingredients, mango syrup.

So, if you've ever wondered if strawberry and mango go well together, the answer is yes, very, very well!
Here's the recipe:
Half strawberry acai
Half water
Mango syrup (2 pumps tall, 3 pumps grande, 4 pumps venti)
Add ice

Thanks to Cameron F. For sending in this fruity delight! If you have a secret recipe you'd like to share, send it to recipes [at] StarbucksSecretMenu.net and it could be featured on the site!