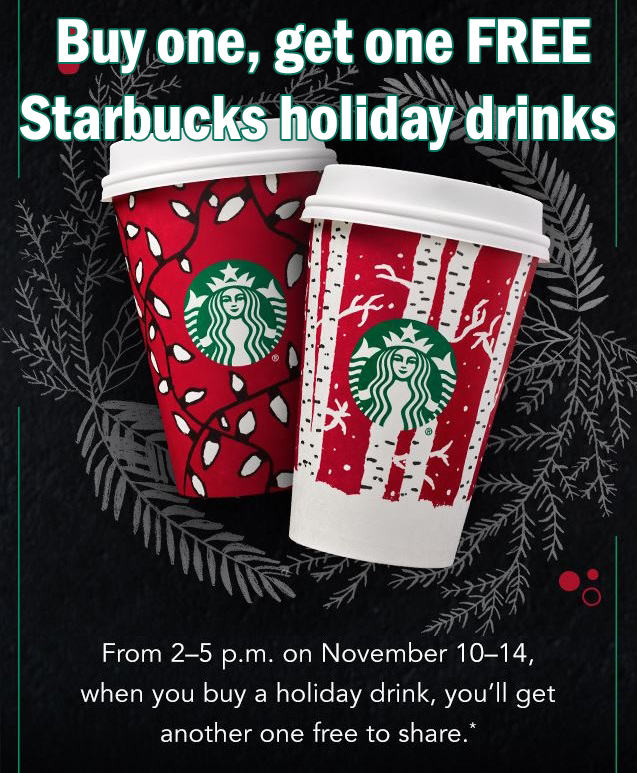 It's that time of year again! The red cups are rolling out which means our favorite holiday promotion is back! Buy any holiday drink between 2-5pm on November 10-14 and you'll get a second one for FREE.
Don't forget that if you're a Starbucks Rewards member you'll get an extra hour to share and can enjoy the BOGO holiday beverages from 2-6pm each day!
Eligible holiday beverages include:
Chestnut Praline Latte
Peppermint Mocha
Skinny Peppermint Mocha
Caramel Brulée Latte
Gingerbread Latte
Eggnog Latte
Teavana Joy Brewed Tea
Spiced Sweet Cream Nariño 70 Cold Brew
Holiday Spice Flat White
Fancy trying some secret menu options for this promotion? We recommend the Peppermint Bark! It's a simple recipe, but a great way to change up your regular Peppermint Mocha. The Gingerbread Nog Frappuccino and White Chocolate Gingerbread Frappuccino are both delicious options for the gingerbread lover and if your Barista can ring up the Holiday Apple Spice as a seasonal beverage, it's the perfect time to try Starbucks take on the classic.
The Share Event holiday beverage offer is also available to customers in Canada and participating European and Latin American markets (dates and times vary).
As usual, you can enjoy any of these drinks hot, iced or in Frappuccino form, so there's something for everyone!