Our favorite time of year is here again!
Frappuccino Happy Hour!
Frappuccino Happy Hour is almost upon us which means you can enjoy half off any Frappuccino blended beverage between 3-5pm on May 1-10.
Take advantage of this offer and try the new summer S'mores Frappuccino or the popular Caramel Ribbon Crunch Frappuccino.
It's also the perfect opportunity to try some of our Starbucks Secret Menu Frappuccinos at half price!
If you don't know what you're looking for take a look at our Top 10 Lists for some ideas!
Don't forget to pay with your registered Starbucks Card or app to earn stars to get your favorite Starbucks beverage or food item free! Mark your calendars! You don't want to miss out on this awesome promotion.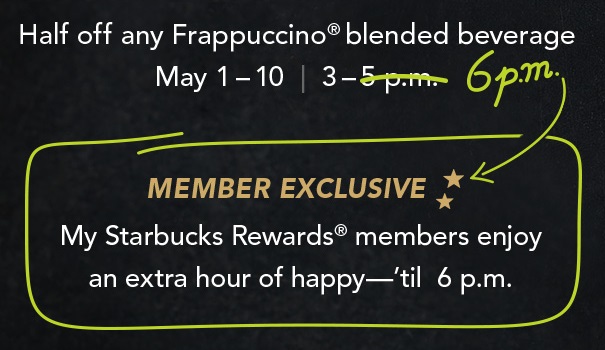 And here's an extra perk if you're a Starbucks Rewards member! You'll get an extra hour of happy hour! Instead of half priced Frappuccinos between 3-5, you can enjoy the savings until 6pm. 
If you're not a Starbucks Rewards member simply put some money onto a Starbucks Gift Card, register it online and voila, you're now a member!