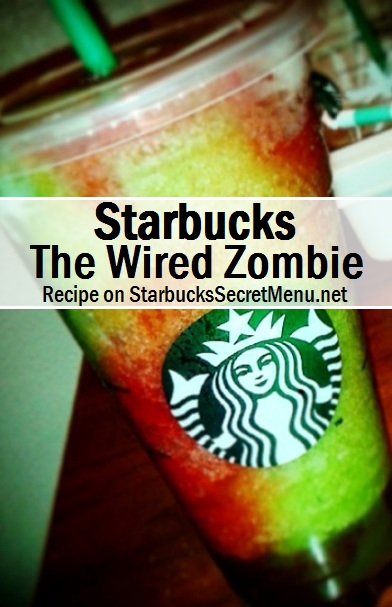 The Wired Zombie

| Starbucks Secret Menu

While this isn't a seasonal recipe, we love how perfect it is for Halloween! An awesome mix of red and zombie green colors, it's a feast for your taste buds and your eyes!

Don't worry, no zombie flavoring though. It's a fruity delight with a great energy boost from the green tea matcha and green coffee extract in the refresher!
Here's the recipe:
Valencia Orange Refresher No longer available. Sub with Strawberry Acai or Cool Lime Refresher based on preference/availibility
Light lemonade, no water
Add matcha green tea powder (1 scoop tall, 2 grande & venti, 3 trenta)
Add classic syrup (½ pump tall, 1 grande, 1.5 venti, 2 trenta)
Top with raspberry syrup (½ pump tall, 1 grande, 1.5 venti, 2 trenta)
Big thank you to Starbucks partner @mamaspaz87 for sharing this awesome recipe to us on Instagram! If you have a recipe you'd like to share, send it to us at starbuckssecretmenu [at] gmail.com or post on any of our social media sites!