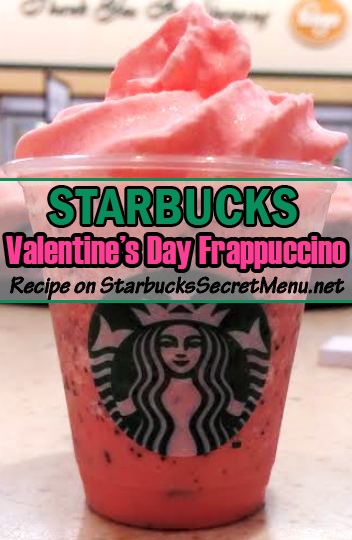 Valentine's Day Frappuccino

| Starbucks Secret Menu

While this Frappuccino features no seasonal ingredients, it certainly has the look of a Valentine's Day Frappuccino with its perfect shade of pink!

It also features two of Valentine's Day most classic flavors, chocolate and a fruity berry.

Some Starbucks locations may feature a pink whipped cream for Valentine's Day but if not, regular whipped cream works just as well!

You can order this Frappuccino whenever you want though, special occasion or not! We promise it tastes fantastic all year round.
Here's the recipe:
Double Chocolate Chip Frappuccino
Made with white mocha instead of regular mocha
Add raspberry syrup (2 pumps tall, 3 grande, 4 venti)

Big thanks to Quimara B and Katie I of Canton, GA for this lovely recipe! If you have a secret Starbucks recipe to share, send it to StarbucksSecretMenu [at] gmail.com and it could be featured on the site!