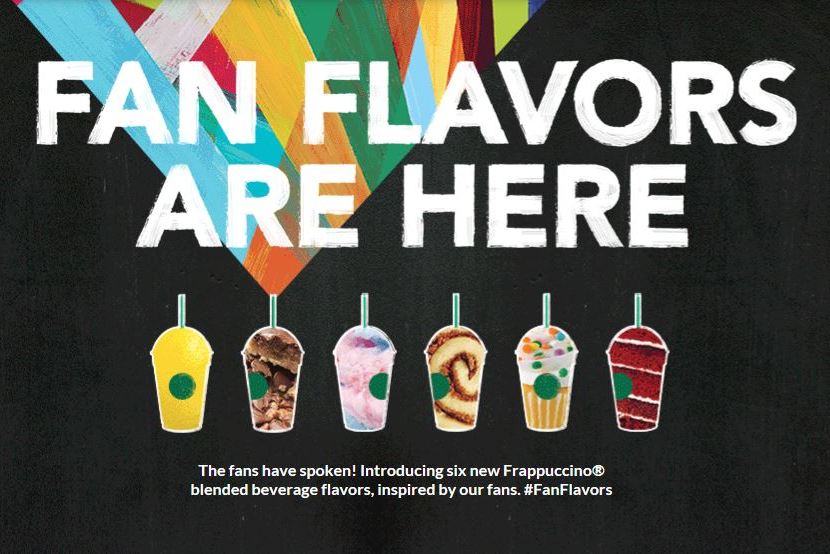 Exciting news for all the Frappuccino lovers out there! Starbucks is introducing 6 new Frappuccino flavors inspired by fans in celebration of the Frappuccino's 20th Anniversary!
A few of these blended beverages might sound familiar to some of you as they've been a part of our secret menu for some time, but a couple are brand new and we can't wait to try them!
Without further adieu, the 6 Frappuccinos available are: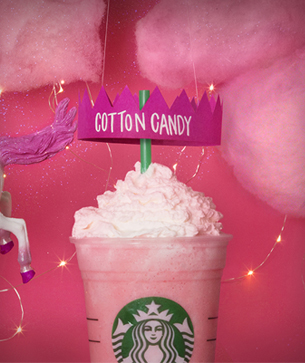 Cotton Candy Frappuccino
This particular Frappuccino is the most widely recognized Starbucks Secret Menu item. It was one of the very first drinks we posted on this site but was already around long before that.
So cheers to the lovely Starbucks Barista or customer who added raspberry syrup to their Vanilla Bean Frappuccino and created this delight! We owe you so much!
For those of you unfamiliar with the Cotton Candy Frappuccino, here's how Starbucks describes it:
Take our standard Vanilla Bean Crème Frappuccino®, add raspberry syrup, blend it together, finish with whipped cream and boom, you have a round trip ticket to magic land…
Red Velvet Cake Frappuccino
The next Frappuccino we have is the delicious chocolaty red cake that has taken the world by storm recently!
We have our own Starbucks Secret Menu version of this sweet treat, with a slightly different recipe than the one described on the Starbucks website. If you've had the pleasure of trying both let us know which one you like more!
Here's how Starbucks makes theirs:
A confectionery-inspired blend of chocolaty chips, mocha sauce, raspberry and vanilla syrup, topped with whipped cream. Perfectly sweet and velvety smooth.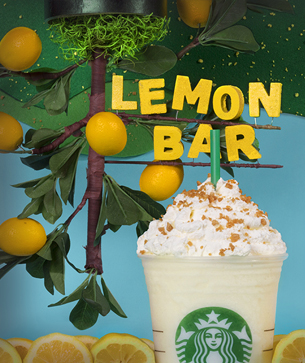 Lemon Bar Frappuccino
Here's a new one that sounds delightful! We love a little tartness once in a while and can't wait to try this Lemon Bar Frappuccino!
It's simpler version of some of our Lemon flavored Frappuccinos, like the Lemon Cake and Lemonades Cookie Frappuccino and we love sweet and simple recipes! We'll definitely be adding the recipe to our site so you can enjoy these Frappuccinos even after they're no longer being promoted in-store.
Here's what Starbucks says about the Lemon Bar Frappuccino:
A sweet and sour mix that brings lemonade and vanilla together. Finished perfectly with whipped cream and a caramel sugar sprinkle. When life gives you lemons, sip this… upside-down?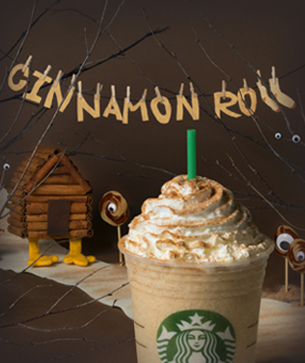 Cinnamon Roll Frappuccino
This cinnamon treat is one of our all time favorite Starbucks Secret Menu Frappuccinos and it must be your too since it made it to the #fanflavors list!
It must be all that delicious cinnamon because this Frappuccino actually does taste like a cinnamon roll! And you can't go wrong with cinnamon.
The official Starbucks version is made with coffee while our version is crème based but other than that the recipes are very similar.
Here's how starbucks describes the Cinnamon Roll Frappuccino:
Cinnamon dolce syrup blended together with coffee, white chocolate mocha sauce and vanilla bean, topped with whipped cream and a cinnamon dolce sprinkle. Sweet and spicy … that's how we roll.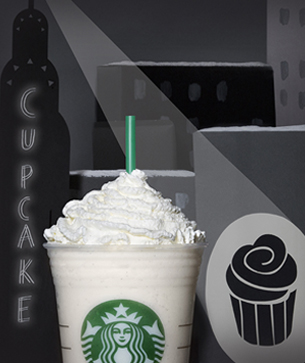 Cupcake Frappuccino
Aside from the name change and the lack of raspberry infused pink whipped cream, the Cupcake Frappuccino is the same as the very popular limited time offered Birthday Cake Frappuccino!
The Birthday Cake Frappuccino was a huge hit so we wouldn't be surprised to see the Cupcake Frappuccino do just as well.
Here's how Starbucks describes the sweet treat:
Start with the Vanilla Bean Crème Frappuccino®, add hazelnut syrup, blend together and finish with whipped cream. A sip of cake flavor in every bite.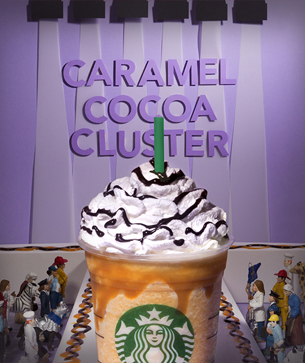 Caramel Cocoa Cluster Frappuccino
And lastly we have this new and delicious sounding combination of two of our favorite things, caramel and cocoa! We are so excited to see dark caramel sauce making a comeback as it's a feature in a few of our Secret Menu beverages.
The Caramel Cocoa Cluster looks so tasty and we're sure that we'll be seeing tons of Instagram worthy photos of this one! Just look at that caramel drizzle, Mmm.
Here's what Starbucks says about the Caramel Cocoa Cluster Frappuccino:
Toffee nut syrup, blended with coffee then topped with a dark caramel sauce, whipped cream and a mocha drizzle. More than a classic flavor combo it's a flavor collision of chocolate, nuts and caramel.
---
All of the Frappuccinos are listed on the Frappuccino.com website as $4.75 for a grande, which is on par with current Frappuccino menu pricing.
No word on how long these 6 #fanflavors will be featured in-stores or if they'll be making permanent appearances on the Frappuccino menu so we'll be sure to keep you posted!
For now Starbucks is saying that they're making these #fanflavors easy to order in-store as a celebration of the 20th Anniversary of the Frappuccino.
---
According to Starbucks, you'll be able to vote for your favorite Fan Flavor Frappuccino on Frappuccino.com/fanflavors between June 19th and June 30th! And on July 3rd, Starbucks will announce the winning flavor and it will be available for just $3 for a grande size between July 3rd and 6th!
If you didn't get around to trying all the flavors during the voting period though, don't worry! They'll still be available for order after the contest ends.
Let us know on Facebook, Twitter, Instagram or Pinterest which of these Frappuccinos you've tried and how you like them!