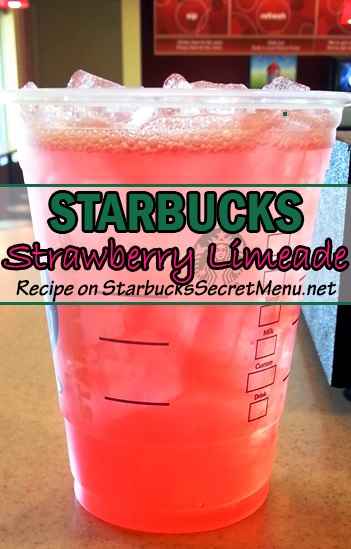 Strawberry Limeade

| Starbucks Secret Menu

We love when Starbucks introduces new drinks! More drinks mean more variety in ingredients and more Starbucks Secret Menu drink combinations!

The Strawberry Limeade features the new Strawberry Acai refresher. By combining the strawberry acai, lime and lemonade we have a new refreshing summer taste!

It's received glowing reviews so far so we'd definitely recommend it to anyone looking for a fruity pick me up on a sunny day!
Here's the recipe:
Strawberry Açai refresher to bottom line
No water
½ lime refresher & ½ lemonade to second line
Add ice and shake

Thanks to Starbucks partner Mallory W. Of Wyoming, MI for creating and sharing this delight with us! If you have a secret Starbucks recipe you'd like to share, send it to recipes [at] StarbucksSecretMenu.net and it could be featured on the site! Attach a photo if you have one! : )